If you haven't heard, podcasts are a thing and so many have their favorites. For those that are unfamiliar, podcasts are an episodic audio program hosted by pseudo-celebrities, celebrities, and experts in a particular field. One such podcast got more attention than they planned on this week and that's today's topic of discussion for #CurrentEventFriday.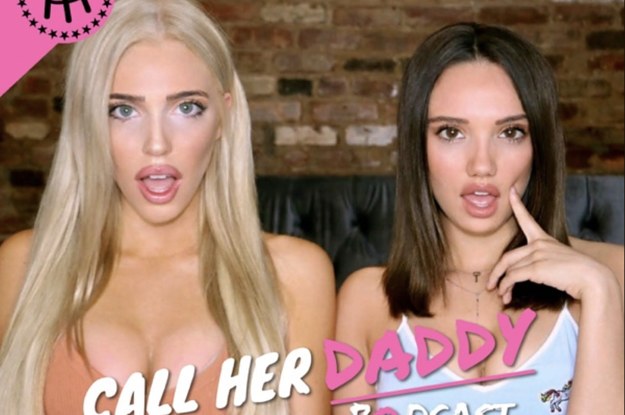 Call Her Daddy is a weekly podcast hosted by two young women on the Barstool Sports platform. The Hosts Sofia Franklyn and Alex Cooper discuss their personal lives and how to make it as sexually-liberated millennial women. Their frank discussions endeared them to many people who were already fans of Barstool Sports' unconventional and irreverent platform geared to Millennial and Generation Z audiences.
Surprisingly for those fans, the hosts had been silent on their platform since late March. Many thought maybe it was part of shelter at home orders in New York, but the duo posted on their social media accounts that they were being bound by Barstool Sports not to speak about their situation but they would address their fans called "The Daddy Gang" when it was permissible. Shortly after that post, the hosts encouraged their fans to purchase "free the fathers" apparel to help them while they weren't recording and restricted by Barstool Sports.
Late Sunday though, the president of Barstool Sports, Dave Portnoy revealed on the Call Her Daddy Podcast that the hosts were not recording because they had been attempting to gain leverage with Barstool Sports based on their success.
Most would understand that the hosts would be entitled to their belief and the compensation would be given as part of contract negotiations with their employer given their success from the time they had signed a contract to be part of Barstool Sports platform. Yet, the Call Her Daddy women were not honoring their contract and making demands that no other podcast on the platform enjoyed.
The sticking point seems to be that the hosts wanted the Intellectual Property (IP) of the show including the name if and when they moved to another platform. The IP had already been a sticking point when originally signing their contract. Portnoy maintained that the program was product created for Barstool sports in their employment and as such belonged to Barstool. The hosts' own likenesses were able to be used without restriction, but since Barstool had secured advertising and promoted the program they deserved the IP of the program.
Portnoy also explained that Sofia Franklyn's new boyfriend, Peter Nelson who is an executive with HBO had been shopping the podcast to a rival platform and hoped to cost Barstool Sports money. For Barstool Sports, they were willing to let the Call Her Daddy girls go after their contract was up, increase their salary, reduce the service time, and even give them the IP if they would honor the contract by continuing to host the podcast until the time was up. Call Her Daddy refused to accept the terms and stopped communicating with Barstool Sports executives. Portnoy maintains that eventually Alex Cooper contacted him and told him that ending the contract negotiation was Sofia's idea and that Sofia would never sign the new contract or come back to the program. Cooper was willing to accept terms that guaranteed her $500,000 a year and finish the length of the contract.
Sofia Franklyn did address the topic on her personal Instagram and that she felt she was unfairly presented by Portnoy in his reveal. Also, surprisingly for the hosts the Daddy Gang that had felt that Barstool was being oppressive and in the wrong in March quickly turned on the hosts calling them spoiled and gold-diggers. Portnoy has also produced apparel mocking Sofia's boyfriend using a nickname 'Suitman" given his executive position at HBO. In addition, Portnoy has also superimposed his face into movie and television clips along with the girls and Nelson that includes Portnoy shaming or attacking the trio. Portnoy's attacks in the clips are part of his promise to sue the duo if they don't honor the contracts.
I'll admit, I listen to several Barstool Sports podcasts, and am vaguely familiar with Call Her Daddy but I'm not surprised that Barstool Sports is coming out looking smart and generous in this. I'd also be interested to see if Alex does finish the contract and has a new co-host. It could find even more success and be a learning experience for her.
Dave Portnoy has also added to his own profile this week by questioning the wisdom of continued lockdowns and earned a retweet from Pres. Trump as well as an endorsement from Tesla & SpaceX's Elon Musk for political office as Musk has seemingly realized that the woke left and Democrat government may not always be friendly to businesses. So, if you were wondering, yes, we are probably living in Bizarro World and that everything you thought you knew should be questioned.
Should the Call Her Daddy hosts been honest with their fans about the contract negotiations and accepted the terms of the new contract?