I've got a sinking feeling. Well, maybe not me but several drivers this week had that feeling during their morning commute. The impact this event had on drivers is the focus of today's #CurrentEventFriday.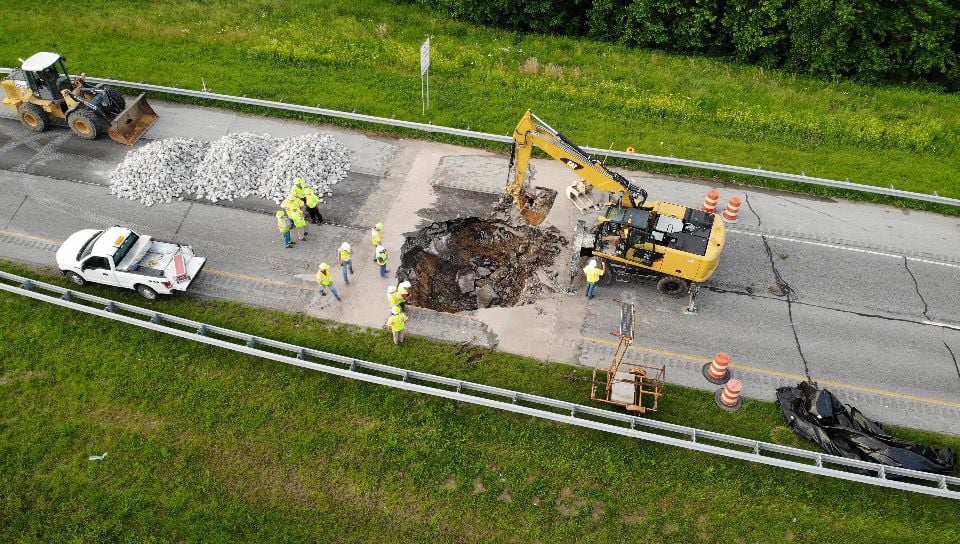 Early Wednesday morning, a sinkhole opened up on Interstate 265 near the Floyd & Clark County lines in Indiana. The I-265 highway connects I-64 & I-65 highways and is traveled heavily most days by commuters during rush hour times and for shoppers heading to the commercial centers at the several exits on the highway.
As the sinkhole opened further at the heart of rush hour, several cars were involved in what would prove to be a fatal accident. Law enforcement worked to clear the crash and divert traffic to surface streets and avoid the sinkhole. Unfortunately, these efforts failed to prevent the accident referenced above. At the point of repair to the sinkhole, the dimensions of it had reached 30' wide by 24' long and 15' deep. Indiana Department of Transportation (INDOT) officials did make necessary repairs to the area around the sinkhole later that day.
Southern Indiana and surrounding areas in Kentucky are defined by limestone below the soil that can lead to these instances. A sinkhole shut down the Louisville Zoo in March. The limestone deposits create a karst topography as subterranean rock material becomes soluble in liquids seeping from above the surface. While the karst topography offers opportunities for professional and amateur spelunkers wanting to explore caves, sinkholes often form nearby. In fact, many entrances to the caves open for tourists were discovered by entering sinkholes.
Local humor about the sinkhole on I-265 also added to other jokes about Indiana road conditions. While nearby roads are undergoing maintenance or repairs, the surface of I-265 may have already needed repair from potholes. Now with the sinkhole, surveys by INDOT may be needed. The area has also been inundated with record rainfall which has caused groundwater problems that contribute to the karst topography that seeps through the limestone.
The presence of sinkholes in the Ohio River Valley also is of concern to homeowners that may have to worry about the karst topography with their foundations. Settling of foundations and basements will often happen to buildings and houses and repairs are needed as fractures and the settling gets worse.
So, with two sinkholes opening up in the area in less than 3 months' time, geologists and emergency officials will no doubt be monitoring and surveying our area to hopefully predict and prevent further disasters. Seemingly, the region has been spared by tectonic problems with earthquakes.
Are sinkholes a problem in your area?