Why can't we be friends? While the band War asked this question in 1974 to great acclaim in the song titled with that question, it's become relevant this week thanks to an NFL game last week. The attention for two famed spectators at the game is the basis of today's #CurrentEventFriday.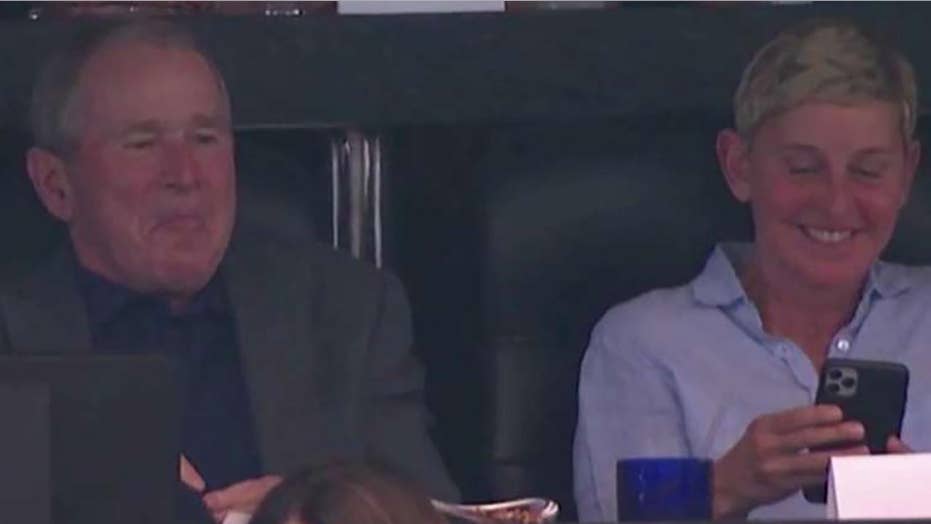 While at the Cowboys and Packers game, viewers noticed Ellen DeGeneres and Pres. George W. Bush watching the game. Ellen addressed the odd pairing of politically opposed acquaintances on her show earlier in the week. Acknowledging that it might seem strange that a Hollywood Liberal lesbian might seem a strange friend for a Conservative Texan President, she defended friendships that transverse political lines.
Ellen argued that she desires friendships with many people, those that agree with her politically and those that disagree as well. Rising above partisan bickering allows her to remain friendly and civil with many more people than just those who align with her worldview.
Viewers of The Ellen Show and many others reshared the video of Ellen defending the civil friendship with Pres. George W. Bush. Following the example in the clip, several were on different sides of the political aisle proving it is possible to rise above partisanship.
Not everyone was pleased, however. Many on the Left chided Ellen for supporting Pres. George W. Bush. In particular, Mark Ruffalo cited Pres. Bush's involvement with the War on Terror as reasons to dissociate with Pres. Bush. Joy Behar also pointed out that being friendly to Republicans means being friendly with Pres. Trump, an unimaginable prospect for The View contributor. This seems at least somewhat strange since Behar is at least civil to fellow panelist Meghan McCain, a Republican who has no love lost for Pres. Trump either. Not to be outdone, conservatives also rejected Ellen's encouragement because of their disagreement with her lifestyle and her previous promise to refuse Pres. Trump from appearing on her show. So at least unintentionally, some on both sides of the political aisle were opposed to two citizens acting civil to one another.
I know that since Pres. Trump ran for and won election, the partisan fault lines have grown larger each day, but I'd like to think there could be some mending. Admittedly, I have many more on my Facebook and Twitter with whom I disagree politically but align with thanks to institutional affinity I attempt to remain above the fray and stay out of arguments with them. Some who share humorous memes about Pres. Trump are legitimately funny and I will laugh or play along with the joke. I agree with challenging hypocrisy on both sides while I may maintain my political preferences.
Can people get along like Ellen DeGeneres and Pres. George W. Bush?