February is upon us and with it, Spring will soon be approaching. Many will turn to rodent meteorologists this weekend, but not everybody is looking forward to that. Why one group is denouncing the practice of Groundhog Day is today's #CurrentEventFriday.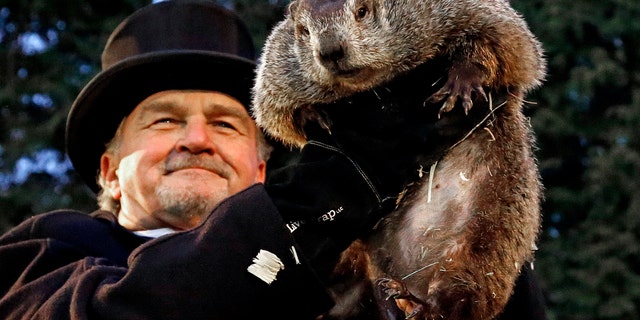 As every February 2 comes and goes, if the groundhog Punxsutawney Phil sees his shadow this weekend in the small Pennsylvania town, he will retreat, and winter will continue for six weeks. If Phil does not see his shadow, spring will be here soon. Maybe not the most scientific system since we've basically agreed that March 21/22 is the vernal equinox regardless maybe Groundhog Day is a strange practice. The folks at PETA tweeted about the practice and believe it's not only odd but it's dangerous for Phil.
PETA argues that Phil's artificial habitat for 364 days out of the year doesn't provide him with true environments to be a groundhog. Not only that, being picked up, shown to crowds, and photographed like a Hollywood celeb is scary and unnerving for Phil.
As a possible solution, PETA has suggested using a robot groundhog that could predict the weather thanks to artificial intelligence. Using this animatronic groundhog, PETA argues would still celebrate groundhogs and drive tourists to Punxsutawney, PA for the celebration. The Groundhog Club president Bill Deeley responded to PETA's suggestions that people want to see Phil, a living, breathing, actual groundhog and not some robot.
Frankly, I'm surprised PETA hasn't made this push before. It's not a recently created event, so they've had decades to protest the celebration and suggest a different approach. Maybe, the advances in robotics would have prevented that until now but can't imagine that PETA really cares whether there's a robot or not. Like many others, looking at a calendar and doing some quick math is a lot more realistic than watching a groundhog see its shadow.
Although, I may not celebrate Groundhog Day like those in Punxsutawney or other locations celebrating the day, I'm not going to be a jerk about it. PETA like many other 'woke' or PC organizations and groups have become unbearable and lacking nuance in their arguments, appealing to emotional manipulations and insults rather than discussion. So, instead I'll just treat Groundhog Day like any other obscure holiday and live it like any regular Sunday in the year.
Should Groundhog Day celebrations include a robot groundhog instead of a living one?