It seems like there's always a disconnect between Urban folks and many of the rest of the country. That's the topic of today's #CurrentEventFriday. It's worth talking about especially as college football season approaches.
If you're trying to understand the connection between college football and Urban folks, it helps if you know the coach of one of the most well-known college football programs is Urban Meyer and he's gotten himself in the news this week.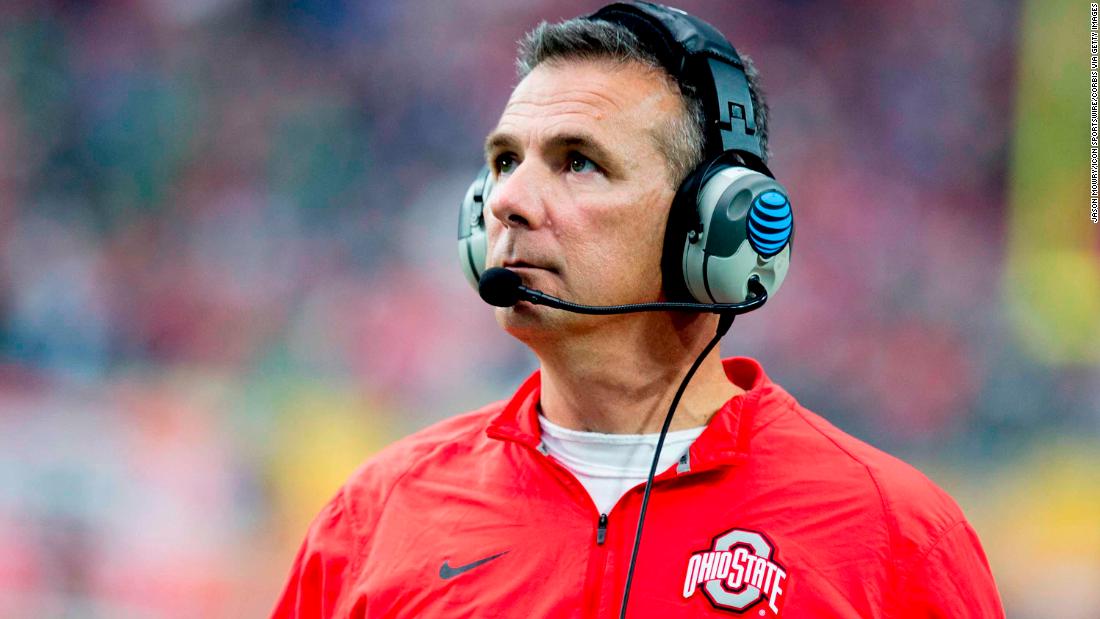 Before his tenure at THE Ohio State University, Meyer was the coach of the University of Florida, earning two national titles with the Gators. Meyer won a third national title with the Buckeyes in 2014. Meyer was hired to take over at Ohio State largely based on his successes at his previous schools, including Florida and his roots in the state of Ohio.
Meyer was hired in 2012 to take over the Ohio State football program from interim head coach Luke Fickell. Fickell was named the interim coach after violations of NCAA rules by several players came to light and the head coach Jim Tressel was found to be aware of the improper activities by the players. Tressel accepted discipline from the university by way of suspension as the violations first came to light, before eventually resigning.
Anyways, back to Urban Meyer. This last week reports surfaced that one of the assistants on Meyer's staff was alleged to commit several acts of domestic violence in 2015. Normally, the assistant would be suspended and eventually fired. What's making it worse is Meyer seems to have been aware of the assistant's violent tendencies and didn't immediately dismiss the assistant when he found out about the domestic violence. In the wake of Meyer's predecessor Tressel's downfall, Rick Pitino's culpability with the UofL scandal, Joe Paterno's conspiracy in the Jerry Sandusky trials, or Pete Carroll's role in USC eligibility violations Meyer really has no excuse. All these coaches were dismissed from their programs or left before facing the sanctions against their teams.
There seem to be discrepancies with Urban Meyer's story and the account from his assistant's ex-wife. Meyer admitted he knew of an incident in 2009 in which the assistant assaulted his then-wife while she was pregnant. Meyer claims after finding out about the incident he suggested the couple explore marital counseling. The now ex-wife claims in a statement that Meyer knew of the 2015 incident as well, but Meyer claims he only learned about it recently when he dismissed the assistant after the assistant violated a trespass warning when he was found at his ex-wife's property in July.
Ohio State officials have placed Meyer on administrative leave while they investigate more about the former assistant and whether Meyer was fully aware of his assistant's violent past as recently as 2015. I'll be honest, Meyer probably won't survive unscathed, but he should resign rather than risk being fired. If he resigns and stays out of the spotlight or finds an assistant position like Tressel, he could likely weather the storm. In the era of #metoo and vigorous support of women by the NCAA, it makes no sense for Meyer and the University not to go ahead and part ways. It's still the Ohio State Football program and it's a coveted position for many coaches, except those born in the Wolverine State. Jim Tressel resigned from Ohio State, worked as an advisor/assistant in the NFL for a few years and is now an ambassador and executive for Youngstown State and is doing well for himself. Meyer has plenty of connections from his time in Florida and Ohio State, as well as Utah. Meyer might fit well in Washington D.C. as a Quarterback consultant for Alex Smith, a quarterback that he led to success in college, Meyer might also help like Tressel did in Indianapolis. He'd help Jacoby Brissett who played at Florida shortly after Meyer departed for ESPN, as well as help Andrew Luck. I'm not actively rooting for that option one way or the other as a Colts' fan, but it couldn't hurt.
Regardless, Urban Meyer must find someway to extricate himself from the situation he now finds himself. Whether he's vindicated in how aware he was of the assistant's 2015 offense, or the allegations are proven against him, he's allowed too much heat on the university.
I know that much of this post will be considered a 'hot take' by many Buckeyes fans, and I run the risk of discussing it as I'll be in Buckeye territory for almost two weeks while I'm at Course of Study School in Ohio starting Sunday.
Worth mentioning also, while I will be away and in classes the next few weeks, I'll be dark on the blog until Aug. 20 with an all-new #HistoryMonday on that day. So, I'll be anxious to write again for pleasure instead of class and I'm looking forward to much of your input when I return.